Rolex Datejust 126333 Review
The Rolex Datejust 126333 seamlessly marries classical elegance with a contemporary flair, crafting a timepiece that transcends transient fashion trends. Emblematic of Rolex's steadfast commitment to crafting perennially stylish watches, the Datejust 126333 is a narrative of meticulous craftsmanship, boasting not only a visual appeal but also engineering excellence. Valued at [Your Price] at WatchGuys, this model has bewitched both seasoned collectors and novice watch enthusiasts alike with its distinct dial color variations and the iconic Cyclops lens over its date window.
History of The Rolex Datejust 126333 
Birthed in 1945, the Rolex Datejust emanated as a celebration of Rolex's 40th anniversary, immediately cementing its place within the echelons of horological prestige. Its inherent sophistication and pioneering date functionality – characterized by an automatic date-changing mechanism – pioneered a new era in watchmaking, with the Datejust 126333 emerging as a subsequent iteration that sustained the model's initial grandeur while embracing modern intricacies.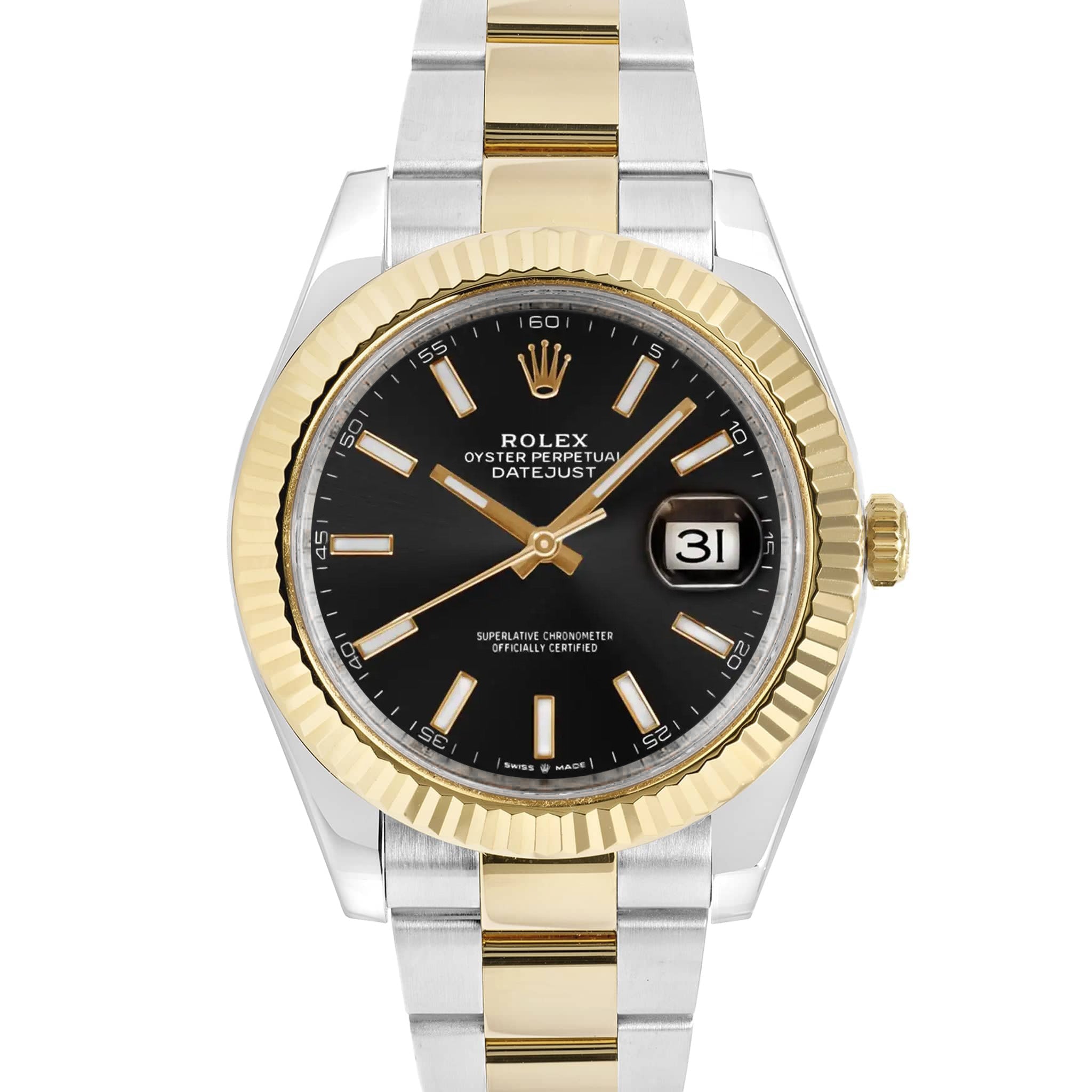 Key Features of The Rolex Datejust 126333 
Dial Variations: Black (Diamond option), Silver, Gold, Wimbledon, Champagne (Diamond option)
Sizes: 41mm case diameter.
Metal: Combines Oystersteel and 18 ct yellow gold
Bezel: Smooth or Fluted 18 ct Yellow Gold
Bracelet Types: Iconic Jubilee, featuring five-piece links.
Movement: Automatic 3030 movement
Caliber: Rolex 3235
Year(s) Produced: Launched in the latter half of the 2010s and currently produced
Prices of Rolex Datejust 126333
Retail price: $13750
Average Secondary Market Price: $15,000
HAVE ONE TO SELL?
For customers looking to sell their Rolex look no further, WatchGuys is the most trusted place to sell a Rolex for best price. Give us a call today at (213) 302-4400 to speak to a Rolex buying expert or visit our sell Rolex page.
Movement & Complications of The Datejust 41mm 126333
The Rolex Datejust 126333 is engineered with the Caliber 3235 movement, a testimony to Rolex's innovation, providing approximately 70 hours of power reserve. It heralds precision in timekeeping and durability, ensuring reliability. Furthermore, the calibre 3235 is a self-winding mechanism, featuring Rolex's patented Chronergy escapement and a Parachrom hairspring, offering resistance to shocks and temperature variations.


Who Wears The Rolex Datejust 126333 
Adored by watch aficionados and celebrities alike, the Rolex Datejust 126333 has graced the wrists of various influential personalities, transcending diverse industries from sport to cinema, affirming its universal appeal. Its eternal design and functional sophistication draw parallels with other models within the Datejust range, consistently exuding an aura of refined elegance and technological prowess that is quintessentially Rolex.

Navigate through a treasure trove of impeccable timepieces with us, here at WatchGuys, where luxury and authenticity intertwine to curate a collection that chronicles stories of timeless elegance.
The Rolex Datejust 126333 "Wimbledon"
The Rolex Datejust 126333 Wimbledon dial elegantly intertwines the prestige of the Rolex brand with the esteemed tradition of the Wimbledon tennis championships. Instituted after Rolex became Wimbledon's official timekeeper in 1978, the unique slate dial embellished with green Roman numerals mirrors the iconic grass courts of the tournament, symbolizing a shared ethos of tradition and excellence between the entities. Although bearing similarities to its standard 126333 counterpart, the Wimbledon variant often witnesses distinctive price fluctuations, particularly attributing to its emblematic dial and the collective esteem of the Rolex-Wimbledon alliance, enhancing its desirability among collectors and potentially augmenting its value in the marketplace.
How To Buy a Rolex Datejust 126333 
Securing a Rolex Datejust 126333 through conventional retail pathways often proves to be a formidable challenge due to its eminent allure and consequential high demand. To bypass the potentially protracted wait times which are frequently a norm at authorized dealers, many watch aficionados pivot towards alternative platforms to attain this coveted timepiece more expediently. Positioned advantageously in this sphere, WatchGuys consistently showcases a variety of in-demand models, including the prized Rolex Datejust 126333, in our impressive inventory. To lay claim to this exquisite piece through WatchGuys, simply navigate to our website, www.watchguys.com, locate the Rolex Datejust 126333 on our product page and click the 'Inquire Now' button to indicate your interest. In demonstrating our commitment to stellar customer service, a representative from our proficient sales team will promptly reach out to you, providing an in-depth overview and pricing details for your desired watch, ensuring a seamless acquisition process for every esteemed client.
Buy a Rolex Datejust 126333 Wimbledon 
Buy a Rolex Datejust 126333 Silver 
Buy a Rolex Datejust 126333 Champagne Diamond Dial 
Buy a Rolex Datejust 126333 Silver 
Buy a Rolex Datejust 126333 Wimbledon 
Follow Us