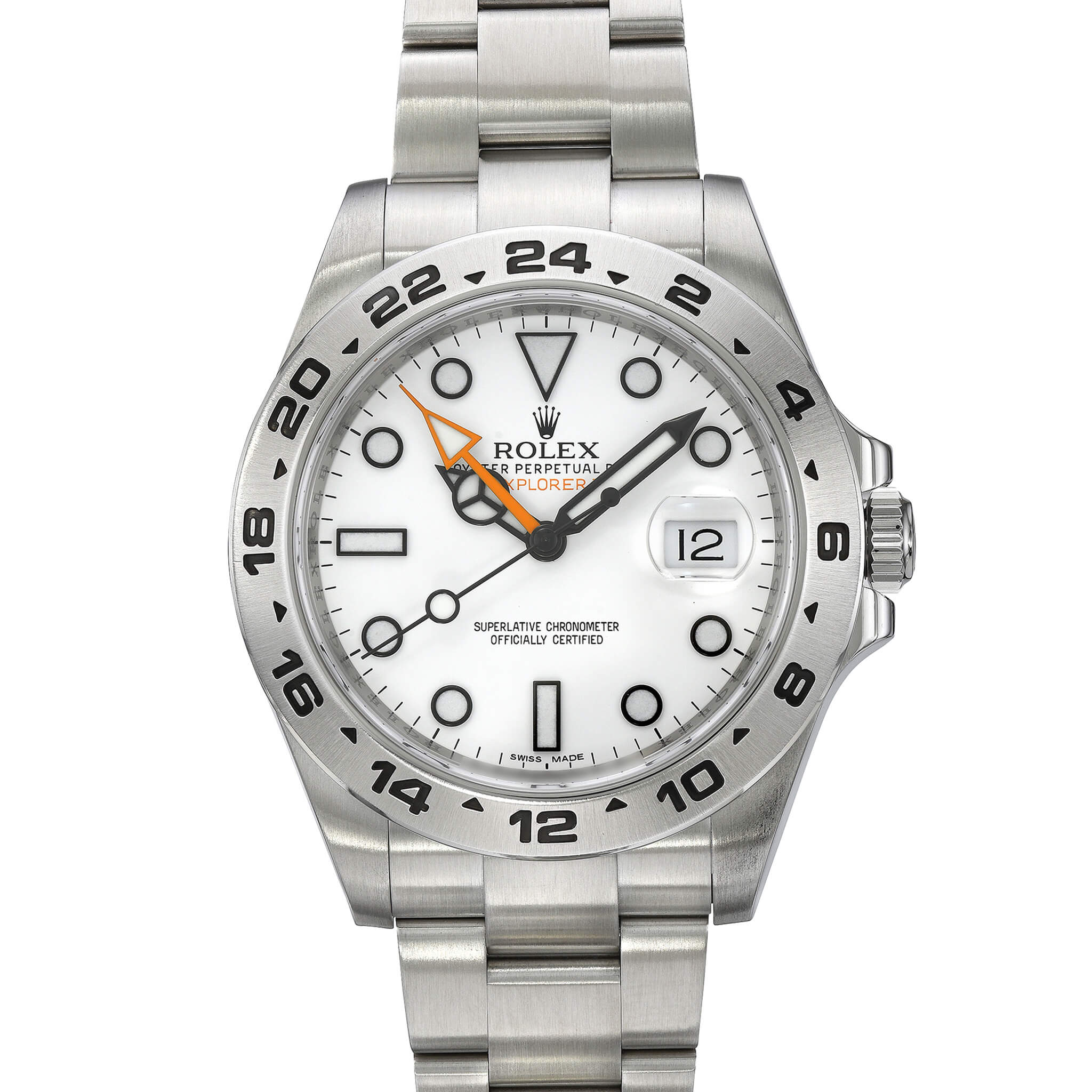 546 Views
Rolex Explorer II 216570 White Dial
FREE OVERNIGHT SHIPPING
IN-STORE PICKUP
AUTHENTICITY GUARANTEED
Description
Introducing the Rolex Explorer II 216570: Unveil the spirit of exploration with this timepiece that embodies both rugged versatility and refined elegance. Crafted with a 42mm Oystersteel case and featuring a stainless steel 24-hour graduated bezel, it's designed for those who embrace adventure. The "Polar" white dial commands attention with its striking aesthetics and Chromalight luminescence, ensuring readability even in the darkest corners of the world. Underneath the surface, the Rolex Caliber 3187 movement guarantees unparalleled precision and robustness.
The distinctive orange 24-hour hand introduces a lively burst of color and practicality, enabling you to effortlessly monitor a second-time zone. 
Dive confidently into up to 100 meters of water and experience ultimate durability with the scratch-resistant sapphire crystal. The Oyster bracelet completes the experience, offering both comfort and durability for the modern explorer. Elevate your journey with the Rolex Explorer II 216570, an exceptional fusion of form and function that reflects your unyielding spirit of discovery.
Specifications
WATCH FEATURES
Model Number: 216570
SKU: WG230
Gender: Mens
Style: Casual, Sport
Box and Papers: Box and Papers
Year: 2016
Warranty: 1-Year Warranty
Made In: Switzerland
CASE/DIAL
Material: Stainless Steel
Shape: Round
Size: 42mm
Dial Color: White
Dial Hour Marker: Dot/Index
Water Resistance: 100m
BRACELET/STRAP
Bracelet Material: Stainless Steel
Band Color: Silver
Buckle Type: Oyster clasp
Bracelet Length: All men watches are shipped to fit the average size wrist (7 1/4″ – 7 1/2″)
MOVEMENT FUNCTION
Mechanical: Automatic
Complication: Date
Authenticity Guarantee
All watches sold on WatchGuys are 100% certified authentic. Our watches go through a multiple touch-point inspection process, that carefully certifies all parts as authentic. Our in-house watchmakers perform the authentication process with above standard qualifications. Shop with confidence when purchasing from WatchGuys, knowing that all watches are 100% certified authentic and backed by the WatchGuys Authenticity Guarantee program.
Shipping & Returns
Shipping:
At WatchGuys, we strive to ensure an above-standard shopping experience. As part of our commitment to you, we proudly offer complimentary overnight shipping, which also includes insurance coverage, promising a quick, worry-free, and secure purchasing journey. Packages are shipped Monday-Friday (excluding holidays). US only. Shipping Policy
Returns:
Your satisfaction is our priority at WatchGuys. We stand by the quality of our products, hence our extended 3 calendar day post-purchase return policy. This policy applies only under certain conditions. All in-store purchases are final sale. Return Policy
Rolex Explorer II 216570 White Dial
Warranty
1-year limited warranty provided by WatchGuys
Guaranteed Authentic
All our watches are 100% authentic
See what customers are saying
Reviews
I spotted a 1990 Rolex at watchguys online. When I called they gave a detailed description and sent detailed photos and a video. When I arrived to see it it was in better condition than described at an excellent price. We bargained a wee bit (even flipping a coin for the last fee bucks - heads I won) and I left with a wonderful piece. The date wheel then was slow to flip. They immediately took it in and had their man perform a full service no questions asked
I had great experiences with the WatchGuys! He is very knowledgeable with watches and always helps you out whether you are buying or selling. I sold my blue Roman dial date just to him recently and he paid top dollar$. If you are buying and selling watches, if you are a watch collector you definitely know that you need to have someone you can trust and do business also get information and help about the watches when ever you need. I trust him %100 and will do more business in the future. Recommending to everyone.
I had an excellent experience purchasing my first Rolex watch from WatchGuys. They made the process very easy and made me feel comfortable answering all of my questions. Their service is a cut above and offer very competitive prices.
The WatchGuys Guarantee
WatchGuys is committed to offering pre-owned luxury watches that are 100% certified authentic. Our brand's integrity is something that is considered very important to us, especially considering the thousands of clients that have put their trust in our business. WatchGuys carefully inspects every watch that we buy and sell with our in-house, Swiss-trained expert watchmakers.
Our WatchGuys Authenticity Guarantee is our company's guarantee and promise to you that all watches and jewelry items sold on our website are 100% certified authentic, and backed by our 1-year mechanical warranty. This allows you to shop with confidence when you are browsing our Rolex watches for sale. If you are local in Los Angeles, you may also schedule an appointment to browse our inventory. To browse local inventory, please visit our Rolex Los Angeles collection. If you have any questions whatsoever about any of our timepieces, you may email us at sales@watchguys.com or give us a call at 213-302-4400.
About Rolex
Rolex, established in 1905 by Hans Wilsdorf and Alfred Davis, stands as a symbol of unrivaled craftsmanship and innovation in the world of luxury watches. The Swiss manufacturer revolutionized horology with milestones like the first waterproof wristwatch and the first automatically changing date. The brand's enduring reputation for precision, durability, and timeless elegance make it the most recognized watch brand globally. Opting for pre-owned Rolex watches allows aficionados to own a piece of this iconic history and craftsmanship at a more accessible price point, all while retaining great value over time. We invite you to explore our meticulously curated collection of Rolex timepieces and delve into the fascinating history of this illustrious brand that continues to define excellence and sophistication.
Buy Rolex Watches