When it comes to horological excellence, few watches capture the essence as brilliantly as the Rolex Date 6916 This 26mm Ladies Rolex is more than just a timepiece; it's a symphony of history, craftsmanship, and style. At WatchGuys, we are proud to present this timeless classic to our discerning clientele at a competitive price of $2,995. Distinguished by its signature features and the legacy it carries, the Rolex Date 6916 Silver Jubilee is a coveted addition to any collection.

Buy a Ladies Rolex 6916 
History Of The Rolex Date 6916
The Rolex Date series made its debut in the 1950s, laying the groundwork for a lineage of timepieces celebrated for their simplicity and elegance. The 6916, introduced in the late 1970s, was a significant step in this lineage, boasting refinements that catered to the evolving tastes of the times. The Silver Jubilee dial added a distinct flair, making it an instant favorite among Rolex enthusiasts.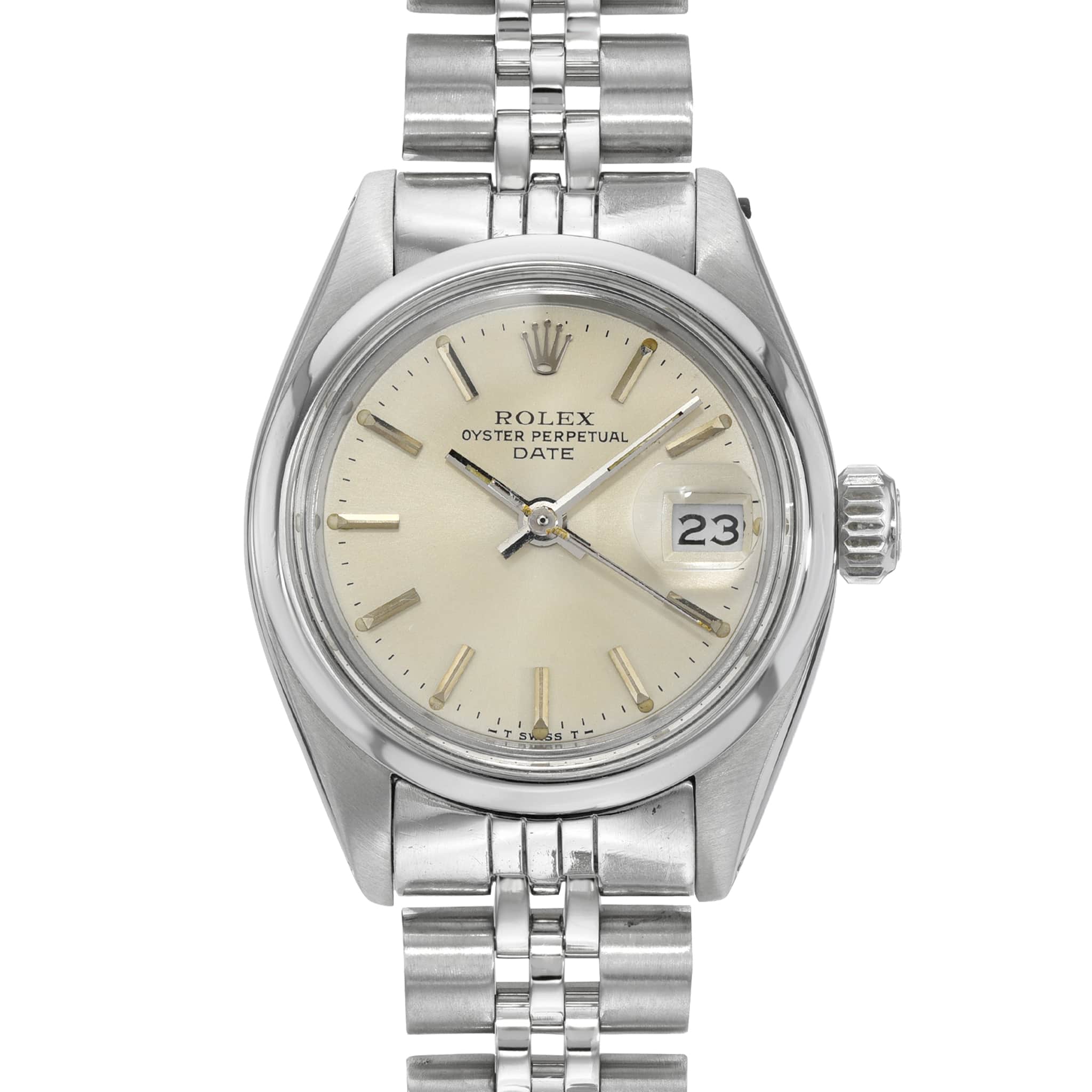 Key Features Of The Ladies Rolex Date 6916
Dial Variations: Silver, Black, Blue, Champagne, White
Size: 26mm case size
Metal: Stainless Steel
Bezel: Stainless Steel
Bracelet Types: Available in Jubilee or Oyster
Movement: Automatic
Caliber: 2030
Years Produced: 1970s to 1980s
Prices of Rolex Date 6916 Prices
Retail price: Discontinued 
Average Secondary Market Price: $3,400
HAVE ONE TO SELL?
For customers looking to sell their Rolex look no further, WatchGuys is the most trusted place to sell a Rolex for best price. Give us a call today at (213) 302-4400 to speak to a Rolex buying expert or visit our sell Rolex page.
The Rolex Datejust 6916 Silver Complications and Movement
The heart of the Rolex Date 6916 is the trusted Caliber 2030 automatic movement. Renowned for its durability and precision, this movement ensures that the timepiece is not just about beauty but also about impeccable performance. Its straightforward date complication, efficiently positioned, enhances its functionality and user experience.
Who Wears The Rolex Datejust 6916
The Rolex Date 6916 is a piece that transcends demographics. From corporate magnates to celebrities to everyday watch lovers, its universal appeal is undeniable. While it shares the foundational architecture with other models in the Rolex Date family, this ladies Rolex ensures it remains unparalleled in its aesthetic appeal, making it a distinct and cherished model in the vast Rolex universe.

Shop Rolex Date Watches



Follow Us